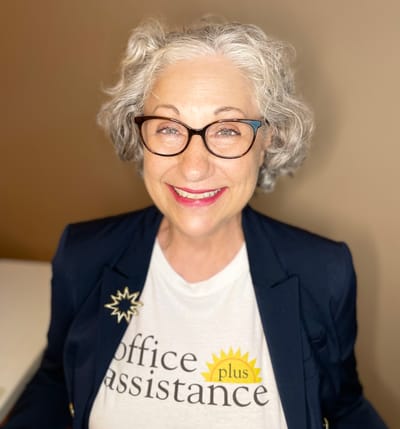 Welcome to our website! I'm Lisa Assetta, the Founder of Office Assistance Plus. I am a career executive administrative professional turned online blogger and business owner during the 2020 pandemic when I launched my online company Office Assistance Plus. I have worked in a variety of executive assistant, administrative support, project management and customer service roles with chief executive officers, senior executives, and business owners in a wide range of industries, including manufacturing, publishing, restaurants, and aviation. My life-long passion for peace and my desire to support, mentor and inspire others led me to launch a blog during the COVID-19 pandemic with the mission to share my expertise and help professionals adapt and thrive at working from home.
Office Assistance Plus offers virtual and on-site organizing sessions for business owners and work from home professionals to help streamline and organize their workflow and de-clutter their physical and digital workspaces to increase their efficiency and gain peace from productivity. Our company's business and personal organizing services focus on the unique challenges that business owners, entrepreneurs, and other leaders face running their companies and organizations, especially during the pandemic, with little or no staff or support. These services keep their clients moving forward to be successful despite the challenges they face in our current virtual work environment.
I am a speaker,
blogger
, and published writer on the topics of Organizing, Productivity, Executive Administrative Assistance and everything Work from Home. I'm a member of ASAP (American Society of Administrative Professionals) and a regular
Contributor
for their website. My story has been published in the book
Living Beyond "What If?"
and I am featured in
VoyageTampa
as a local hidden gem. I am a proud three-time cancer survivor and active volunteer and fundraiser for the American Cancer Society and Moffit Cancer Center. I offer unique and customized organizing services for cancer patients, Survivors, and their caregivers as a way to give back and inspire and empower those facing cancer to organize their cancer life during treatment and beyond.
Thank you for visiting our website. I can't wait to meet you! Schedule a
coffee + consult
with me today!
Lisa Assetta, Founder CEO - Chief Executive Organizer Office Assistance Plus